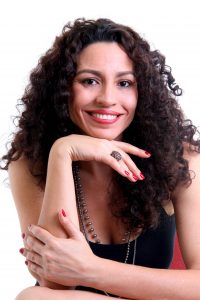 Karine, born in Minas Gerais, Brazil, daughter of Chico and a dressmaker called Eleuza, with whom she had her first contact with Brazilian music. Kaine's mother, whose father played the accordion, used to be famous among the groups of workers in Rio Preto, where she used to sing before her career was interrupt by her brother. Some years later, working in another area, she gave birth to Karine, who inherited all her artistic gift and musical talent.
Accustomed to the musical world since her childhood, Karine began her first performances during family reunions and with the church band. Unpretentious, she started studying at Cora Pavan Caparelli-the State Conservatory of Music, while she atended a Physical Education course at the Federal University of Uberlândia. There, the music also played an important role in her life as she performed in cultural events, conferences and students parties.
The sudden success in her hometown led Karine to build a career as a singer. And her voice was already well-known anywhere in Uberlândia. Encouraged by friends and other local musicians, she embraced new projects and got totally involved with the new job. From the songs sung at the square across from her house, Karine was already able to make herself recognized on the stages of her town.
Still in Uberlândia, she took part in some musical groups, as 'Flor do Samba' (Samba's flower) and 'Chama Eterna' (Eternal Flame) among other music recording projects, besides developing personal ones, such as the show 'Fidalguia', 'Pé No Chão', the recording of the DVD 'Selo Uberlândia', the album 'Pelo Telefone: Memória do Samba de Uberlândia and the project from the Federal University of Uberlândia called 'O Samba Mandou Me Chamar'. In 2006, she was already taking part in projects in San Paulo, with the group 'Samba Autêntico' , in the 'Virada Cultural' (which is a 24-hour cultural event) and 'Rua do Samba'. She also starred the moving show 'As Tais Mineiras', in which Clara Nunes repertoire is revisited.
In 2009, she moved to San Paulo in search of artistic improvement and total dedication to her career as a singer. In 2012 she released her first album 'Flor do Samba', in which she honored song-writers of the Minas Gerais region known as Triângulo Mineiro. Also in 2012, she started working with the musical group 'Notícias Dum Brasil', directed by the musician Eduardo Gudin, recording in 2015 the album 'Eduardo Gudin e Notícias Dum Brasil 4' with special participation of Ivan Lins, Toquinho, Carlos Lyra, Paulinho da Viola among others.
In 2014 Karine participated of Brazilian Music Project of the Vicking Line Company for 2 months between Sweden and Finland.
Also in 2014 Karine recording with musician and composer Gerard Gassou a video clip with the music "Imagine", a Abossal production.
In constant rise, Karine has already shared stage with Dona Inah, EltonMedeiros, Márcia, Renato Braz and Paulo César Pinheiro.